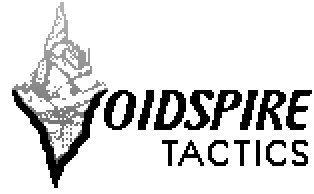 Voidspire Tactics
Voidspire v1.1 Patch Notes
---
It's been a while. I'm still working on a third new Tactics project, but while that's in progress, here are a few important bugfixes and some balance changes.
1.1.0
Fixed various minor tooltip typos and errors.
Fixed Rasmen flanking evasion bonus not working.
Fixed Humans not receiving an XP bonus after combat.
Fixed being able to teleport bookshelves with Gate: Item.
Fixed bug where re-entering the boat at certain times in the first zone would prevent progression.
Blade's 'Flash Cut' damage increased from 60% -> 75%
Increased Breaker's 'Break Armor' accuracy by 10%.
Reduced Spell Archon's 'Lightning Imbue' rank up duration bonus from 10 -> 6.
Increased Scholar's 'Prayer' base MP recovery, but reduced the Skill & Magic Attack scaling.
Reduced Sorcerer's 'Freeze' rank up duration bonus from 10 -> 5.