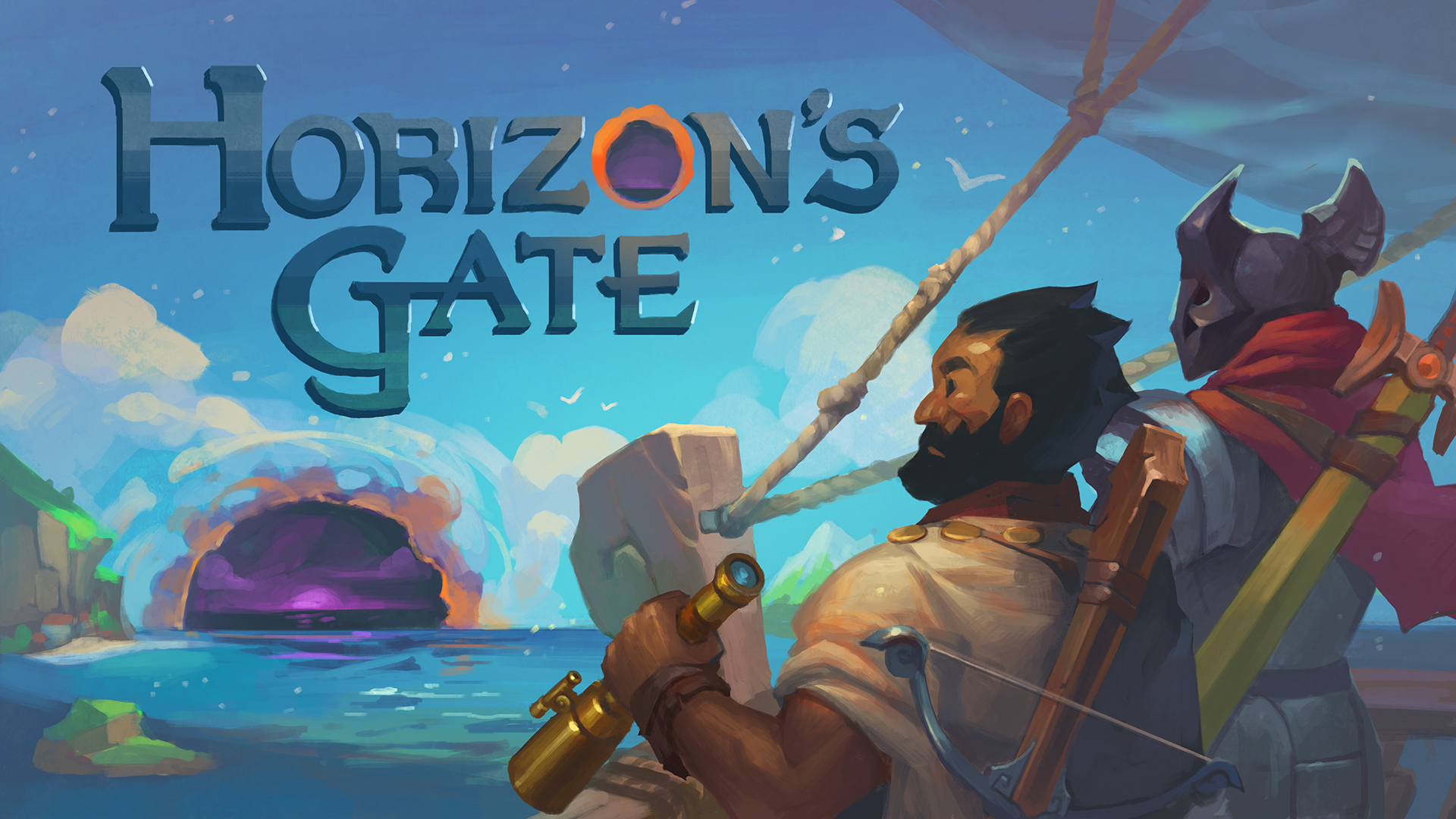 Horizon's Gate
Version 1.1.4: new dungeon, new banner, many fixes!
---
Horizon's Gate now has a new and vastly improved banner image!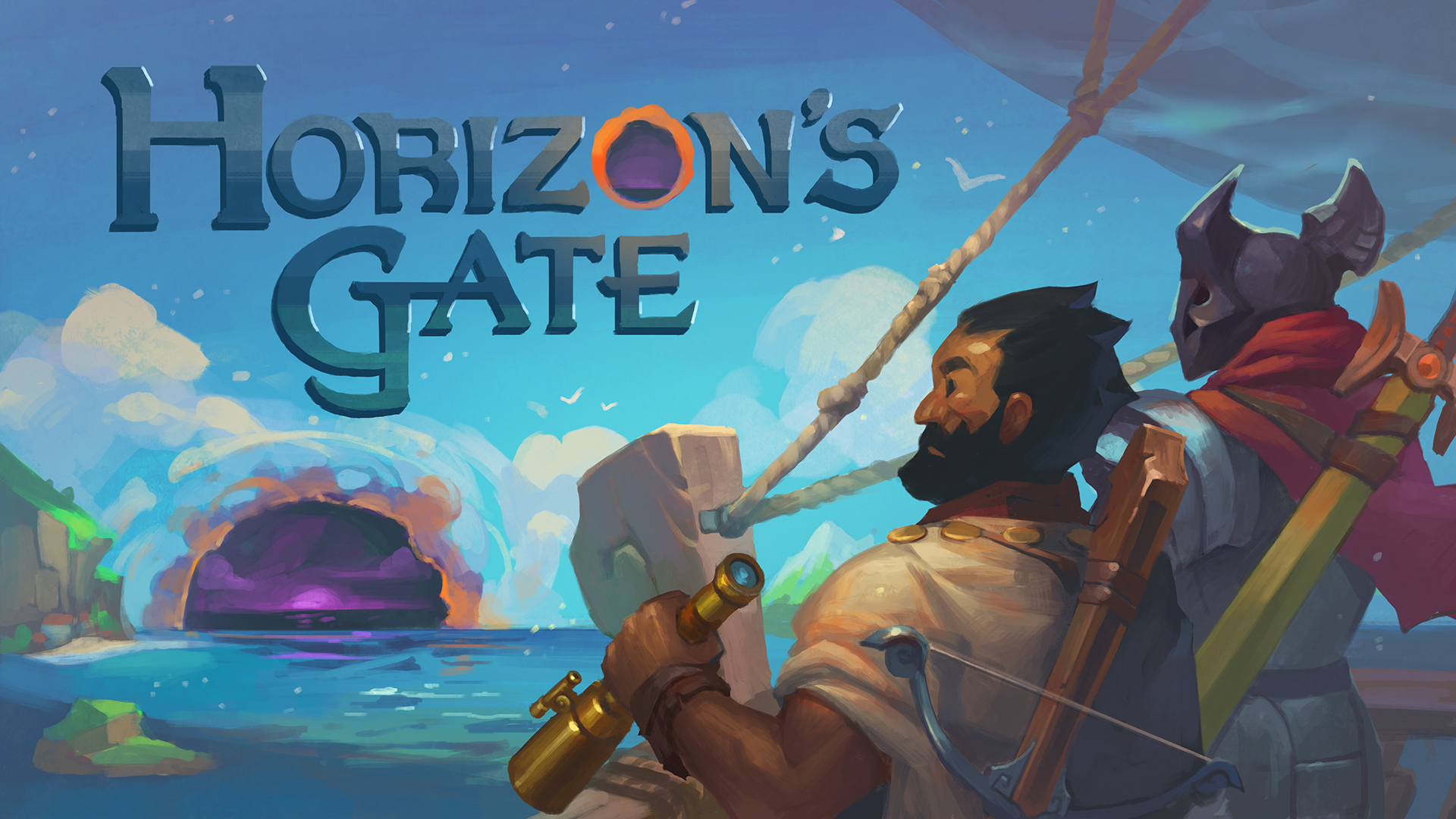 Thanks to the extremely talented Grace Liu for this beautiful artwork - Reeve and Hagger have never looked better! You can see more of her art here.

With it comes a new dungeon, more pirates, and some bugfixes! The dungeon is a multi-floor tower. This patch also includes changes from a number of other small patches.


v1.1.4
FEATURES
New location: Sunken Balkaloth
Increased reward for Salvage guild quests by +$200
Maximum pirate fleets now increases from 2 to 4 over the course of 200 days
Blunderbuss and Scout Rifle now can be reloaded (but not fired) with one hand
Fleet battles now show exactly who got how much XP at the end
Added detailed profit breakdown in tooltip when selling trade goods
Defeating a sea monster 'fleet' now spawns a gust in the overworld where they were
Weapons are now automatically reloaded at the start of each Arena round
Elementalist's 'Firewalker' now heals from walking in fire/acid/electric water
Fleeing land combat from the same enemies repeatedly now incurs a ramping Combat Fame and Crew Morale penalty.
Increased duration of most cafe food effects by roughly 50%
Added some NPC responses to certain player actions in port (Only for players who haven't visited the ports before the patch)
Added royal dialog if your faction takes over almost every port in Eral
Added a unique greeting for each temple
Added a few more variations for Reeve's "What should we do next?" dialog
Added unlockable 'Timed Hits mode' after beating the game (already unlocked if you have beaten the game)
BALANCE
Reduced Sea Monster spawn rate by about 5%
Slightly increased XP reward for sinking Megarays and slightly decreased XP for sinking Shellships
Life Trigger now correctly scales with Life Skill/Magic Attack additively instead of multiplicatively
Lifeshards no longer arc over characters (now behaves like a Dart instead of a Bow)
Reduced Magic Attack and Skill damage scaling of Scholar's 'Gust' from 100% -> 80%
Reduced MP cost of Gatewarder's 'Gate: Avalanche' from 9 -> 7
Halved Magic Attack and Skill duration scaling of Warden's 'Guard' and 'Ward'
Reduced rank up duration increase of Warden's 'Guard' from +15t -> +10t
Halved Magic Attack and Skill duration scaling of Elementalist's 'Freeze' and Unmaker's 'Wither'
Halved Magic Attack and Skill duration scaling of Defiler's 'Brainshock' but increased base duration by 4t
Reduced duration of Breaker's 'Break Arms' disable by 7t
Minstrel's 'War Ballad' duration now also scales with Life Skill (but Magic Attack scaling is halved)
Re-added Cleever Impaler's -3% Dodge penalty and Omnipode's +1 Skill bonus
Warpblade's 'Gate: Slam' base range reduced from 4 -> 3
BUGFIXES

Added journal entry for Turrets
Fixed having certain gamepads plugged in making the keyboard unresponsive
Fixed Guard protecting against Break Weapon and Break Armor
Fixed crash if you run out of possible royal quests by defecting
Fixed animation delay on 'Thousand Fists', 'Dual Strike', and 'Shield Bash' causing them to miss on attacks that push
Fixed crash when moving cargo onto Crew window when looting a fleet
Fixed gossip about quest items not checking items in locations you've never visited
Fixed Dialog Speed option not being saved
Fixed certain roofs not showing shadows or walls underneath
Fixed Rain and Storm effects persisting when entering Gale Ravine
Fixed shorter Morale/Poison effects reducing the duration of existing Morale/Poison effects
Fixed Decay not overriding Regen effects
Fixed Bat Handler's 'Zoarnado' not being a Physical attack
Fixed investments in Dunning-Mars reducing favor with Seartial (fixed for new games only)
Fixed AI sometimes choosing suboptimal targets (especially with area of effect spells)
Fixed facing-based effects (Valiant, Backstabber, etc.) not calculating consistently at 45° angles
Fixed Mobile Workshop furnace not working
Fixed Bone Crossbow's Ruin bonus not properly unequipping if the weapon was fired (thanks rcfox!)
Fixed delayed 'mid-air' abilities such as Blast Shot being cancelled if the caster becomes unable to act
Fixed Omnipode or Volskarver duplicating when thrown with Hurl Weapon
Fixed Volskarver's prices being inconsistent
MODDING
Fixed Ctrl+R crash with DialogNodeOverride mods
DialogOption mods now overwrite existing DialogOptions if the ID, text, and formulaReq all match
Ctrl+R no longer crashes with mod GlobalTriggers
Added support and example file for FormulaGlobal mods
Added support for songs in the Mods directory. (Song filenames must start with "Song-".)
Added cloneFrom support for ActorTypes and ActorClasses
Lists can now be cleared in definitions by preceding it with a '!' character (Ex: "!actions=Mec_setTurret" would clear the actions list before adding 'Mec_setTurret'.)
Overwriting a Zone now backs up the overwritten zone and puts it in a 'Backup' folder. Only 1 backup is kept.
Added support for FXData, drawOrderFX, and drawOrderFXLight (check out ModSamples/FXsamples.txt)
Triggers can now list multiple elements in triggeredByElement.
Implemented 'GlobalTriggerEffect', which adds a TriggerEffect to the specified GlobalTrigger (via ID=triggerID;).