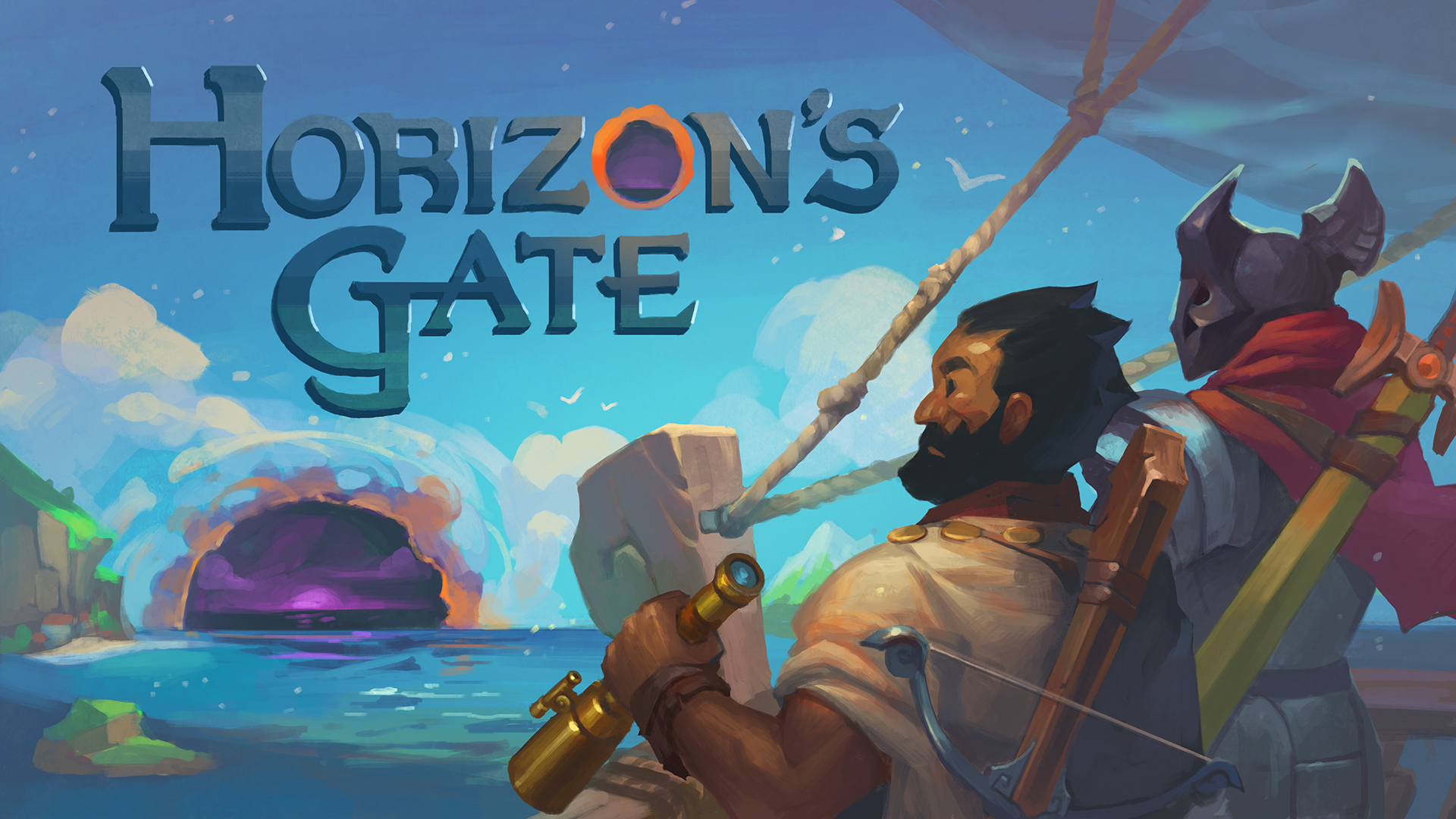 Horizon's Gate
Version 1.4: new procedural dungeon, Ability Tablets, cafe talks, and more!
---
A major content update is here, with a brand new port and attached dungeon! The dungeon is five levels deep, procedurally generated, and can be ventured into as many times as you want. At its bottom is a new kind of item: Ability Tablets! There are also tons of balance changes, new dialog, and a new trade mechanic!
Here are the details:
FEATURES
New port: Ahlvarza!
This port contains a repeatable 5-level procedural dungeon filled with new enemies!
Delve in as far in as you can - Ranuz will pull you out with a 'Gate device' if you fall in battle.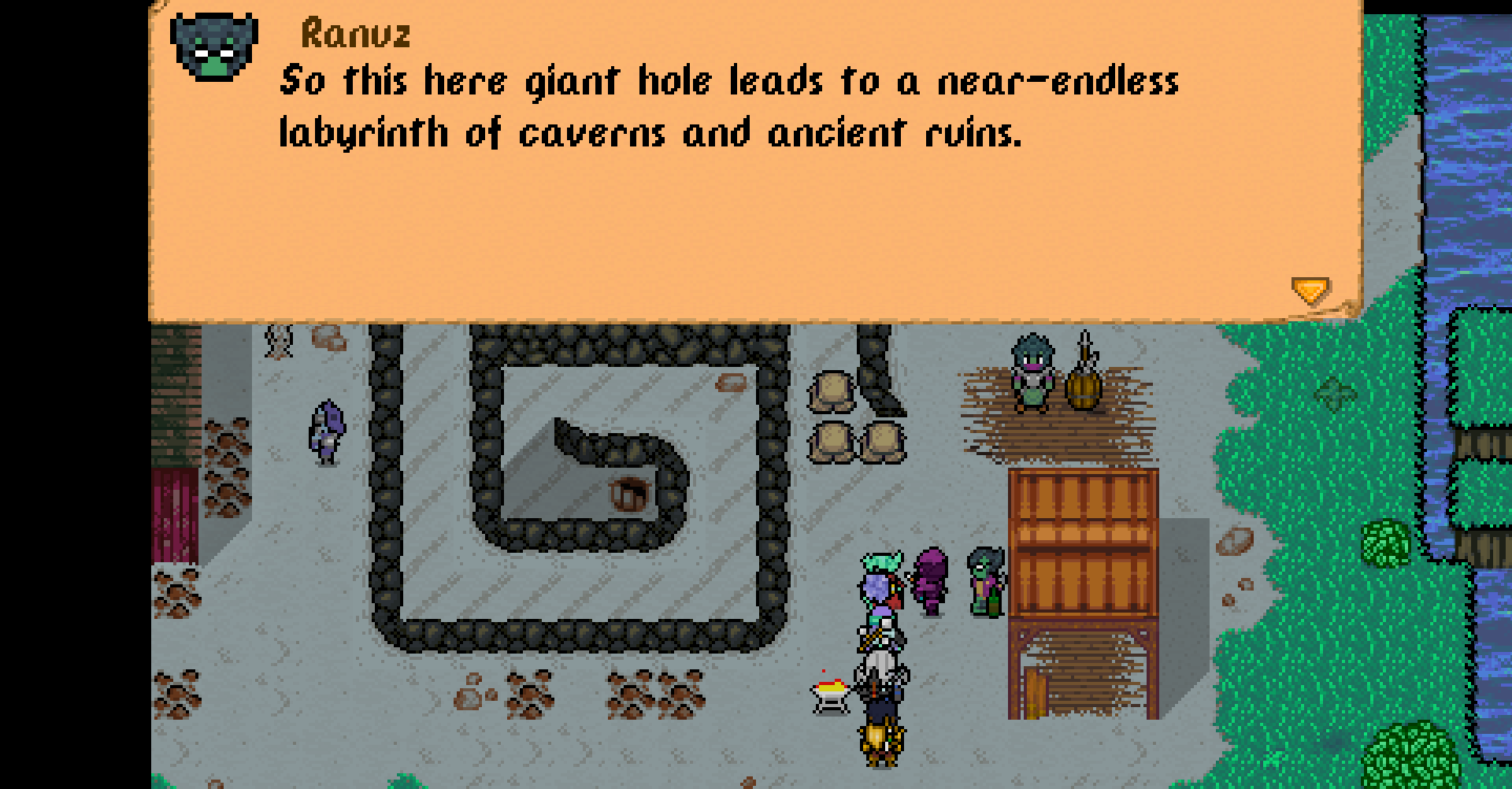 New item: 'Ability Tablets'! Every class ability has a corresponding Ability Tablet.




They can be equipped as an accessory or weapon/armor augment.
Tablets grant +1 rank to the chosen ability, even going beyond max rank! (for most abilities)
When equipped as an Accessory, they can be used to cast the ability, even without equipping the class.
Can be found at the end of the new dungeon, or as rare finds at the Salvage Station and certain groves.
Only one tablet of each ability can be found (no duplicates).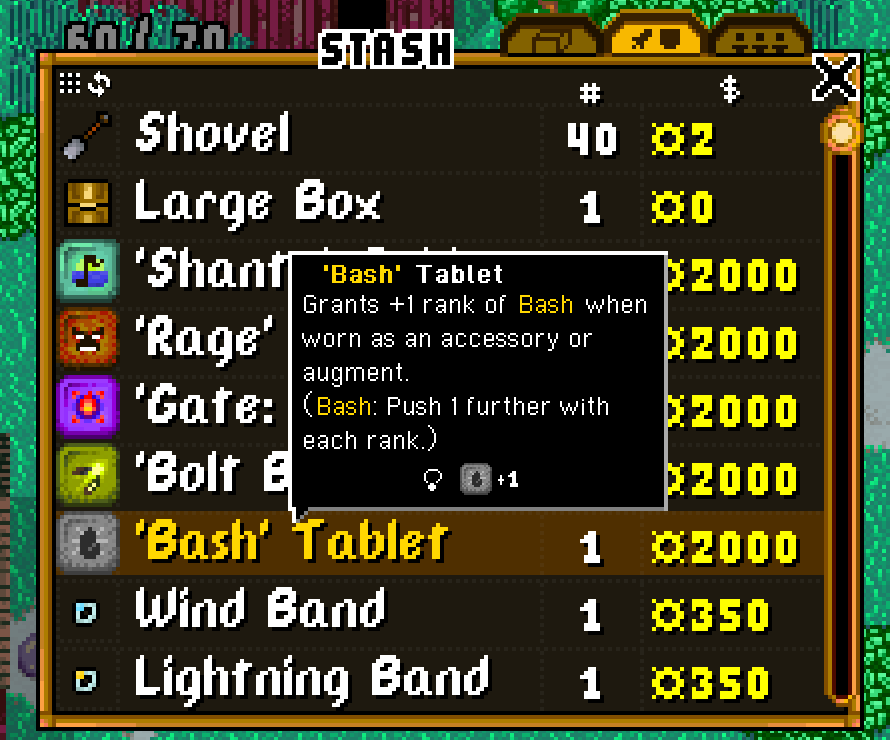 Bored of the same old cafe chatter? Now you can ask Reeve about most journal entries!




100+ new conversations!
Reeve will now chat every time you eat at the cafe, instead of skipping consecutive days.
"I wanted to ask something about you" options now disappear after the dialogs have been viewed.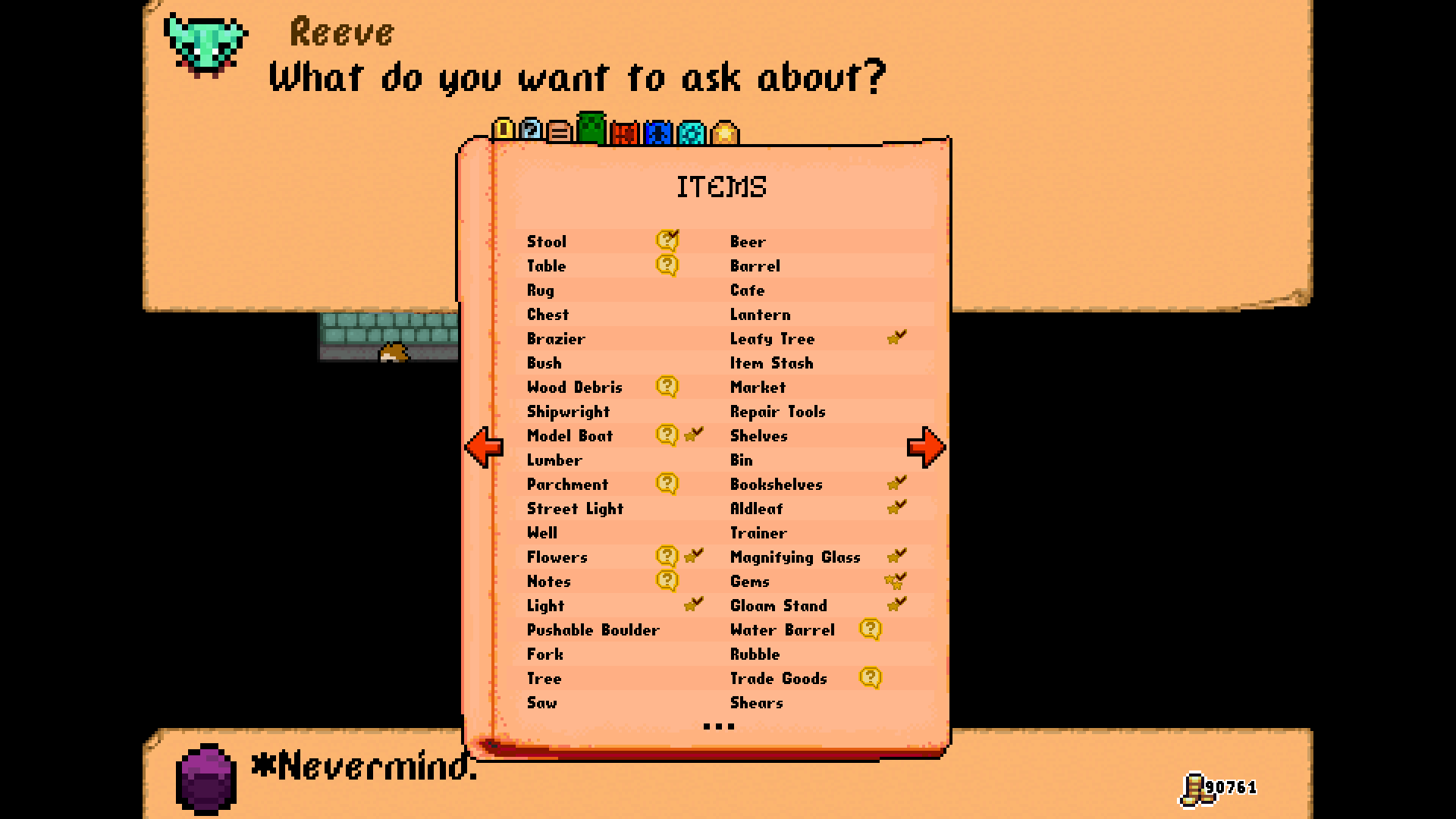 New trade mechanic: Market Rate!

Each port starts at 100% Market Rate.
Sell value of trade goods is multiplied by Market Rate.
Selling trade goods lowers Market Rate (to a minimum of 50%).
NPC fleet visits increase Market Rate (to a maximum of 120%).
Each day Market Rate shifts toward 100%. Ports with higher wealth level and more nearby allied ports will recover from low rates faster.

Trade goods now only sell for half value at non-port locations
Increased all maximum trade good stock by 10%
Selling trade goods at their port of origin now re-adds them to the port inventory
Added dedicated 'Crew Inventory' button
You can now convert XP into Stars (1000:1) at player-established Training Grounds
Overworld discovery range increased by +1 for non-port locations
Crew spawns at cafes now select randomly from the port list, instead of in order, increasing crew diversity
New ship added as investment unlock at Trabenton (NOTE: only for games that haven't visited Trabenton yet!)
New equipment added as investment unlocks at Bette Sands, Wraele, Fivili, Crubtown, Luss (NOTE: only for games that haven't visited those ports yet!)
BALANCE
Gatekeeper's 'Gate: Magma', 'Gate: Storm', 'Gate: Flood', and 'Gate: Sky' can now be cast directly on obstacles
Sailor's 'Heave' and 'Rope' now can't miss allies
Sailor's 'Rope' now gains accuracy from Fist Skill instead of using weapon accuracy
Elementalist's 'Windslash' base damage increased by +1
Gatewarder's 'Gate: Barrage' MP cost increased from 7 -> 9
'Preserve' status now protects against the Max HP penalty from being KO'd
Chain Shot damage increased by +1
All Greatswords now have 2 augment slots
Ice Carapace now ignores half Magic Defense and half target's Ice Skill
Ruin Aura Magic Attack and Ruin Skill scaling reduced from 1:1 -> 1:0.5
Ruin Aura now ignores half Magic Defense and half target's Ruin Skill
Reduced base healing of Bandages from 18 -> 16
Reduced base healing of Splints from 20 -> 18
Bandage and Splint Life Skill scaling changed from just caster 1:1 -> caster and target 1:0.25 each
Reduced base healing of Lifeshards from 14 -> 12
Reduced Lifeshard Life Skill scaling for both caster and target from 1:0.5 -> 1:0.25
Increased value of Grubhusk from $15 -> $18
Absorbent Mesh price reduced from $2500 -> $1500
Anti-Boarding Net price reduced from $500 -> $250
Gossip now only mentions location coordinates after reaching 200+ exploration fame
Salvage Shipwreck job base reward increased from $1150 -> $1250
Morale boost of most +Element cafe foods increased by +1%
Ships with a minimum crew of 1 no longer suffer the normal cannon damage penalty for having only 1 crew
Defeating a pirate fleet now also gives +1 favor with all 3 nations
Burst Pod and Blast Pod damage now ignore half Physical Defense
Burst Pod, Sickly Pod, and Blast Pod now explode when struck by Wind (which means they can explode each other, causing chain reactions)
Reduced XP cost of Sage's 'Green Touch' from 350 -> 275
Increased XP cost of Sage's 'Critical Recovery' from 250 -> 400
Reduced XP cost of Ravager's 'Indomitable' from 400 -> 250
Reduced XP cost of Balancer's 'Geomancy' from 600 -> 500
Increased XP cost of Balancer's 'Life Mirror' from 450 -> 500
Spidest now gain +3 defenses in RUIN mode instead of +30 Max HP
FIXES
Increased animation speed of Lifeshards
Enemy passive 'Setae Aura' now only plays an animation when it hits a target
Character-change keybinds now function normally when holding an item instead of giving the item
Closing the journal after 'Look'ing with a controller now automatically re-enters 'Look' mode
Controllers can now scroll crew inventory lists
Improved keybinds for controllers! This ONLY takes effect for new installs or if you reset to Default keybinds.

Changed default controller keybind for 'Look' from (LB) -> Left Stick / Right Stick

Changed default controller keybind for 'Command Select' from (Y) -> (LT)

Changed default controller keybind for 'Ability Select' from (LT) -> (Y)

Changed default controller keybind for 'Crew Inventory' from (LB) -> Start

Added default controller keybind for 'Prev Party Member' to (LB)

Added default controller keybind for 'Next Party Member' to (RB)

Fixed visible debug messages when scrolling menus with a controller
Reeve now warns about the endgame point of no return even if she is not in the party
Fixed 'Victory' message occasionally getting stuck off-center
Fixed ships getting stuck in static pose after being damaged in the overworld
Fixed neutral fleets occasionally spawning at certain remote ports and getting stuck there
Fixed investments in enemy ever-loyal ports granting favor with your nation
Sealed Chests can no longer be pushed
Crew can no longer be rearranged on the fleet window while they are incapacitated
Searth now shows that it has 2 trainers in its map tooltip (new games only)
MODDING
Landing Party max UI now reflects any globalVar 'partySizeMod' changes
Items that no longer exist because their source mod was disabled now become 'Junk'.
Fixed crash when applying permanent effects to Actors using mod-defined ActorValues
Added SpawnData.extraSpawnDataMins, SpawnData.extraSpawnDataMaxes, SpawnData.extraSpawnDataChances, and SpawnData.spawnExtraSpawnDataInOrder
Added SpawnData.forbiddenAbilities to prevent specified abilites or passives
Added SpawnData.forcedSupportAbilities to equip specified passives
Added formulas 'm:enemyPower' and 'm:partyVsEnemyPower'
Added SetPiece.canBeRotated, SetPiece.canBeFlippedX and SetPiece.canBeFlippedY
Added ItemType.defaultQuantity and ItemType.defaultQuantity_rand
Added support for 'cloneFrom' for SetPieces
Added Task 'travel_procedural_point'
ItemType.drawSprite now works properly
TerrainType.canJumpOverFromAngle is now a list and can include multiple values
TerrainType 'caveWallLedgeN' can now be jumped across from the left or right
Added Action.canExceedMaxRankBy property (defaults to 0)
Ability Tablets are automatically generated for mod abilities, but will not exceed max rank unless Action.canExceedMaxRankBy is set to 1 or more.
Added ActorValue 'star' which grants +magnitude Stars to the current primary class
'resetloc' no longer resets ALL locations when no location ID is specified.
'resetlocations' is the new console command for resetting ALL locations.